Events with PayPal
PayPal Payments Standard integrates seamlessly with Events Manager Pro after a few simple steps.
If you would like to test PayPal payments before going live, please see our PayPal Sandbox Mode setup instructions.
PayPal Account Type
In order to start using PayPal, you need to sign up to an account which allows you to accept website payments, which are called Premier and Business. More information on PayPal accounts.
Configure PayPal
In order for Events Manager to work smoothly with PayPal, you need to tell PayPal where to send notifications and return the user during the purchase completion. Firstly, start by logging into your paypal account and going to your profile options
Turn on IPN Notification
Go to your profile options, and click on the Instant Payment Notification Preferences. Turn on IPN by following the instructions and using
http://yoursite.com/wp-admin/admin-ajax.php?action=em_payment&em_payment_gateway=paypal
as the notification URL. You should see your exact URL required from within your PayPal gateway settings.
If you already have IPN enabled with another URL, you do not have to change this URL (Events Manager will supply PayPal with the correct return IPN url during payment).
Return URL
PayPal gives you the option to redirect your customers back to your site after paying. Whilst you can use any page on your site and it should include a confirmation of payment etc., you can also use http://yoursite.com/youreventspage/my-bookings/?thanks=1 as the return URL, which will give a standard message. If you would like to redirect users back to your site after a successful purchase, you have two options:
Automatic Redirection
After a payment is successful, PayPal shows a confirmation page which automatically redirects you to a chosen page.  To enable this you need to turn auto return to on in the website payment preferences. Note that the value in your Event Manager's paypal gateway settings will override your return URL on PayPal (leave blank for default auto-return URL.
Manual Return Link
A link will appear on the PayPal payment confirmation page, allowing users to return to a page on your site. Manual return links can be enabled by adding a return url within Event Manager's paypal gateway settings.
Gateway Settings
Once you set up your PayPal account,
First, go into the paypal settings and make sure that the details are correct. All fields come with a short explanation, but here's some information on a few of them:
PayPal Mode – You can use the PayPal Sandbox for testing with simulated transactions, when doing so make sure you are using Test Mode.
Language – This list is limited according to languages supported by PayPal, as indicated on their documentation (see the lc variable).
Manually Approve completed transactions? – After a payment has been made, you can choose whether to automatically confirm this booking, or set this to pending and confirm yourself.
When you save, you'll be taken back to the gateways page. Hover over the PayPal gateway and click on the activate link to start the Gateway, and from now on events with bookings will appear with a paypal payment button!
How Payment Process Works
When a user signs up to an event with PayPal, a pending reservation is made for the user (whether logged in or not) and they are passed onto PayPal. Once they make their payment, they will be forwarded back to your website.
Behind the scenes, PayPal notifies your site of the payment transactions, and if successful a user account will be created (if not registered already) and the booking confirmation email will go out to the user.
You will be able to see transaction history from any of the booking pages.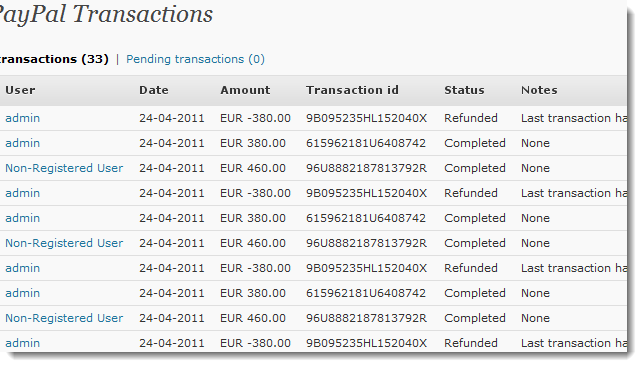 If you want to manually approve bookings even after successful payments, check the manual approvals box in the PayPal settings page.
Cancellations/Refunds
If users cancel on your website, you will be notified by email, and you should proceed to cancel the payment on PayPal. If you want to cancel a booking, you can either do it manually on your site and then PayPal, or just do it via PayPal and Events Manager will be notified to cancel the event.