Importing / Exporting
Hey! Try out our new documentation pages, hope you like it!
Events Manager I/O is our Importer / Exporter add-on, currently available as a separate add-on available to Pro users.
I/O is currently available to Pro users as an Early Access beta version.
Events Manager I/O provides an abstract layer between import and export formats (what you're importing to/from) and Events Manager. This allows the addition of new formats for import and/or export by developers to be as easy as possible.
Initial Setup
The Events Manager I/O add-on can be downloaded from our downloads page and can be installed on your site in the same way as installing the Pro add-on via the WordPress plugin installer. Once you have done this and activated the plugin, you will see a new 'Events I/O' menu item in the admin dashboard.
Supported Formats
Our I/O plugin allows you to import and export events and/or locations (when supported by the source).
File/Feed Formats
These formats can be uploaded or exported as a file, or alternatively can be accessed for import/export via a URL which also enables you to automatically sync and update event data.
External Services (Separate Add-Ons)
For more information on setting up each format, click the links above.
Advanced Features
The advantage of Events Manager I/O is that aside from connecting to multiple formats, we offer some advanced features described below.
Automated Import Scheduling
You can schedule imports to run repeatedly over hourly, twice daily, daily, weekly, twice weekly, bi-weekly and monthly intervals. Coupled with Smart Syncing (see below), you can consistently keep your event sources updated.
Smart Syncing
Each import or export job you create maintains a synchronization history, meaning if you run that job again, previously processed items will be ignored and not duplicated. Additionally, you can choose whether to update previously imported/exported items that have been modified.
Location Import Autocompletion with Google Services
Not all sources provide complete location information. For example, iCal formats have no standard format for providing addresses and therefore can be difficult to manually parse for accurate information. With Google Maps service integration, you can improve the quality of your address imports, including geo-coordinates when not supplied.
Connect to Multiple 3rd Party Accounts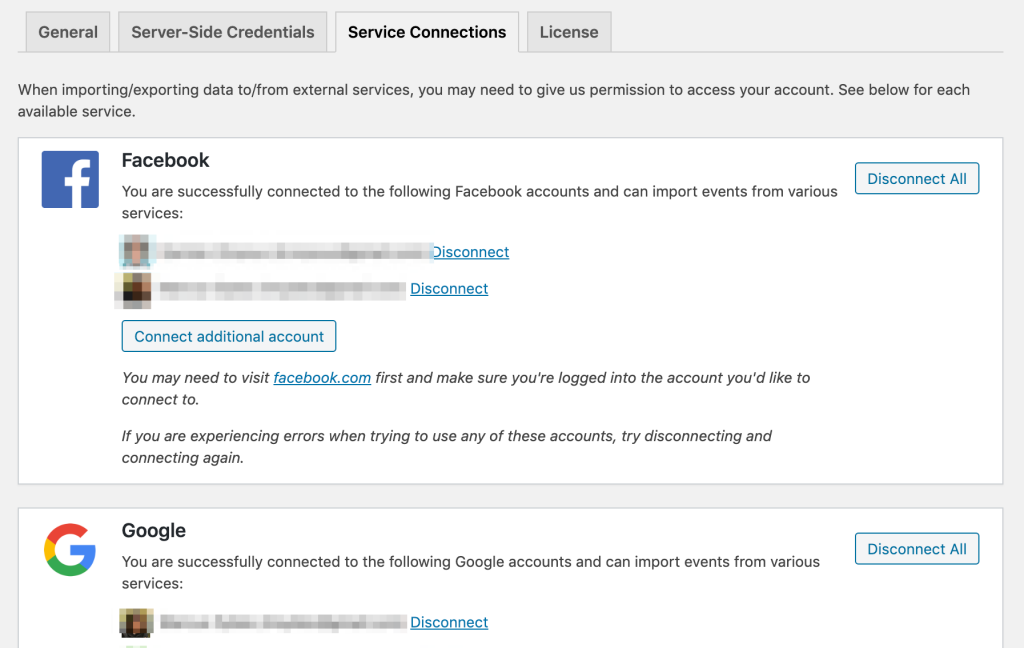 External services like Google, Facebook and Meetup.com use OAuth for connecting Events Manager I/O with your account. This method allows you to connect to multiple accounts should you need to.
Detailed Import/Export History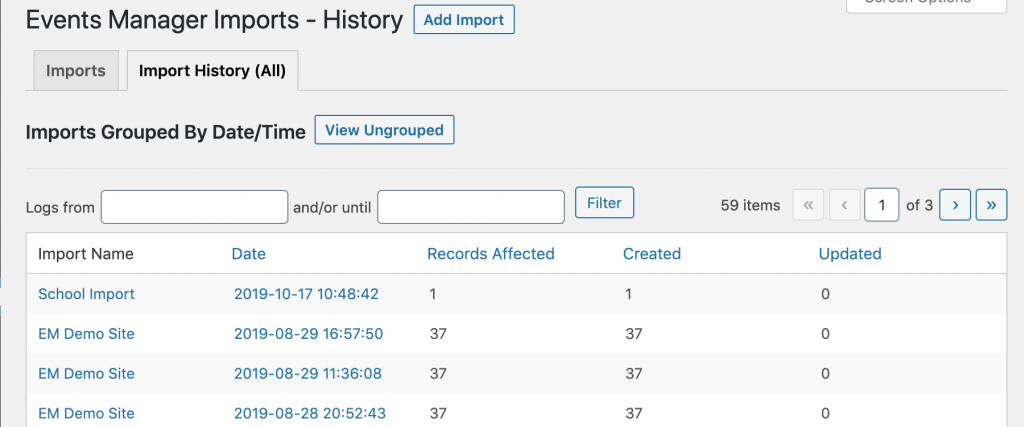 Every time an import or export job creates or updates data, you'll find it in the history tab. See all your import/export history in one place, or drill down to individual jobs or dates to find out what happened.
Import/Export Filters
You can filter events and locations to be imported/exported if they match search text or are within a specific date. You can also limit how many items are processed each time the import/export job is executed.
Export as Feed URLs
For exports such as iCal, CSV and Excel which do not push data to an external service (such as Google Calendar), you have the option of directly downloading the file or publishing it to a publicly accessible URL in the form of a downloadable file or a feed. This can allow other importers (event another Event Manager website) to access this data, which is updated as you add/edit events and locations.
Import Actions
You can also choose what to do when processing each item to be imported. This includes:
Whether to publish or leave it in draft/pending status.
What to do with items that have been updated.

Update, ignore or update and change publish status.

Download or ignore featured images.
Add tags or categories to events when imported.